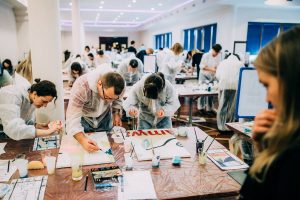 We specialise in incentive events.

Incentive event (e.g. an incentive trip, a motivational travel, a motivational trip) is used to encourage people to achieve a specific business goal or to award definite persons, who have already achieved these goals. This is a strong tool, which serves to award, build loyalty of people for the organization and motivate them for further effective cooperation.
An incentive event should always include involving elements, which will cause that a participant feels unique. The most effective incentive events also include some elements, which teach and inspire. Motivational travels can have educational value and give the possibility to build knowledge e.g. about company brand or products.
An incentive trip also is a unique occasion to have all key persons (employees or customers or partners) in one place at the same time. Then we have a chance to integrate such group, develop specific competences or expand knowledge about products or strategies of a trip sponsor.
The key form, which we use here is team building – integration programmes, which often use game elements.
What also works well here are activities and interactions, which meet a possible secondary target of such event – the objective of the Corporate Social Responsibility (CSR).
Team building
Team-building or awaydays is one of the most frequent enquiries, which we receive. Our well-tried programmes achieve a goal in various ways, which is important for each organization such as: building strong, well cooperating teams that are ready for challenges. Building vehicles? Managing agricultural holdings? Looking for a philosopher's stone? Creating a mutual masterwork? What limits us is just a horizon of imagination!
CSR
One of the most effective and at the same time noble forms of an event or a training course is acting for the most needy. In such an event the participants act with a significant sense of a goal, which involves them doubly and they get inspiring feedback after completing the task – gratitude of beneficiaries. However, before it takes place, they have to plan actions in time reasonably, share tasks, matching their competences to them, plan the budget, overcome moments of demotivation – in other words, do everything, on which team effectiveness depends on daily basis.